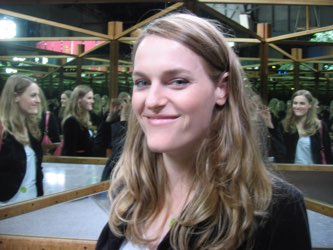 Amy Lehrman Design is a graphic design firm based in Tucson, AZ with 10+ years experience branding and marketing a wide range of large and small businesses in Southern Arizona and nationwide. Our clients include those in the senior living, health care, real estate, and education industries.
Amy has a degree in Visual Communications from the University of Arizona. After spending several years working in downtown San Francisco, she is happy to be enjoying the sun again in Tucson, Arizona.
Get Started
Contact Amy Lehrman Design to make your company look great!
"I've worked with many designers in my 25-year PR career. Amy stands out not only as a talented designer but as a collaborator and partner making the process easy and fun and the end product a winner."
---
2016-12-09T18:38:37+00:00
Peg Witham, APR
Peg Witham Consulting, Inc.
"I've worked with many designers in my 25-year PR career. Amy stands out not only as a talented designer but as a collaborator and partner making the process easy and fun and the end product a winner."
http://www.amylehrman.com/testimonials/ive-worked-many-designers-25-year-pr-career/
"Amy's work is incredible. She's truly an expert in her field and as the leader of a national digital agency, I look to her to share the latest bells and whistles in the email arena."
---
2016-12-09T18:39:35+00:00
Laura Fox
VP Marketing at Harvest Communications
"Amy's work is incredible. She's truly an expert in her field and as the leader of a national digital agency, I look to her to share the latest bells and whistles in the email arena."
http://www.amylehrman.com/testimonials/amys-work-incredible-shes-truly-expert-field/
"Amy is a wonderful web-graphic designer. She truly does a great job at understanding a customer's wants and needs. She will continue to do work for our company."
---
2016-12-09T18:40:46+00:00
Ronnie Cook
Owner of Artegan LLC (11 senior communities)
"Amy is a wonderful web-graphic designer. She truly does a great job at understanding a customer's wants and needs. She will continue to do work for our company."
http://www.amylehrman.com/testimonials/amy-great-job-understanding-customers-wants-needs/
"Amy was a great listener, and offered us excellent advice and hit our budget and schedule. We are already discussing our next project with her."
---
2016-12-09T18:41:47+00:00
David Bouquillon
Managing Partner of Laulima Development
"Amy was a great listener, and offered us excellent advice and hit our budget and schedule. We are already discussing our next project with her."
http://www.amylehrman.com/testimonials/amy-great-listener-offered-us-excellent-advice/